Regular price
Sale price
$47.00 USD
Unit price
per
Sale
Sold out
Steel necklace with Picasso Jasper spheres (Jasper), alternating with steel elements and Lava stone spheres
Because natural stone is used, each bead is unique and each necklace is a one-of-a-kind piece.
Description

Steel necklace with 8 mm Picasso Jasper spheres and Lava stone, alternating with steel elements.
The necklace is completed by a practical lobster clasp

Material

Steel, Lava stone, and Picasso Jasper stone
Dimension

Stones Ø 8 mm - Length 50 cm
Symbology

Picasso Jasper: On a psychological and spiritual level, Picasso Jasper is a stone of initiative and courage. It gives imagination and a spirit of adventure, sharpens the senses and encourages action to achieve one's goals. Picasso Jasper helps to consecrate the energies of the body and mind to realize one's aspirations in daily life and those of spiritual life. Stone of authenticity and sincerity, it helps to remain true to oneself and one's life principles.
Lava Stone: Balance and Stability: Lava stone is associated with stability and balance, and can help reduce anxiety and worry. Protection: Lava stone is often associated with protection, and can help protect your energy and keep negative energies away.
Shipment

Free standard shipping in Italy
Share
View full details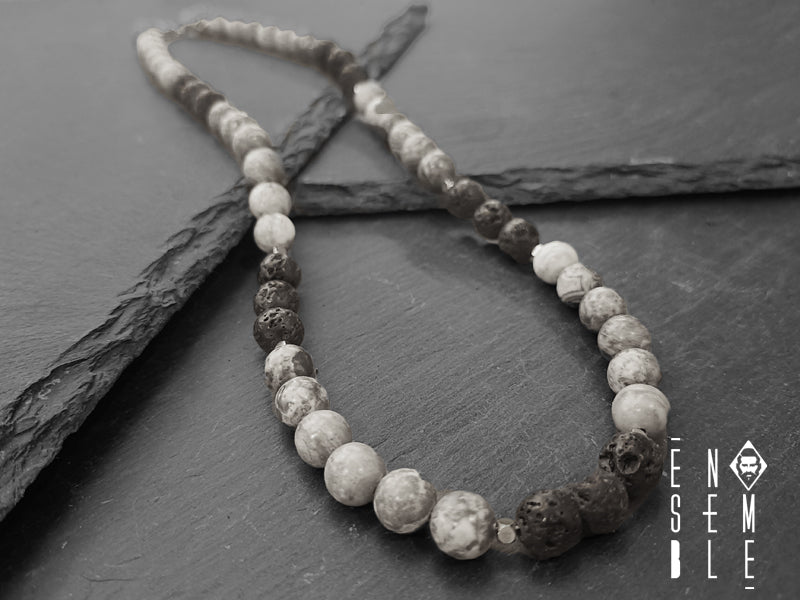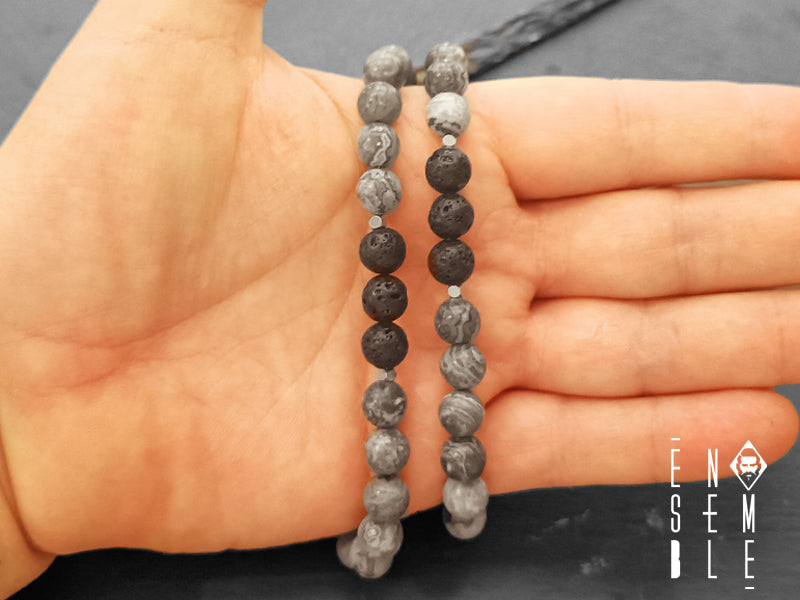 ENSEMBLE
Men's accessories are not for special occasions, nor are they reserved for a specific group of people. It's not about necessarily looking elegant or fashionable, but simply about telling your story by expressing what makes you unique. One way to do this is through the smallest things we wear, accessories! Ensemble designs quality, fashionable men's accessories at affordable prices
ITEMS FROM THE SAME COLLECTION